Keryas Boutique Hotel
Keryas Boutique Hotel is the best choice for a traditional accommodation in Isfahan, since you are visiting this website, you are probably planning to travel to Isfahan. Therefore, we must congratulate you because Isfahan is a tourist gem in Iran and a trip with memorable moments awaits you.
Keryas Boutique Hotel is located next to Naqhsh Jahan Square and right at the foot of the turquoise dome of the Shah Mosque. It can be claimed that such an experience cannot be achieved in Isfahan!
After having breakfast in the beautiful courtyard and at the foot of that amazing and unique turquoise, just by stepping from the boutique of Keryas Hotel, you will find yourself in ancient Isfahan.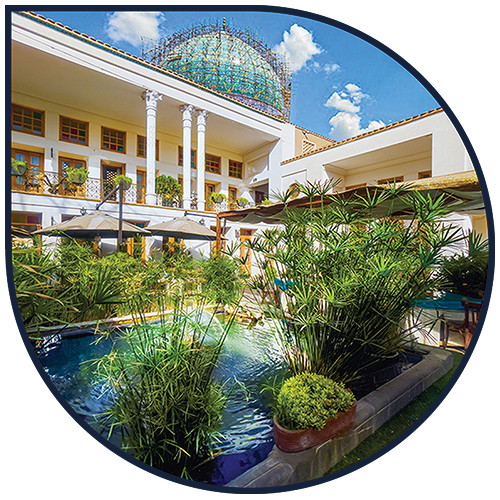 Keryas boutique hotel-Cafe-restaurant
Keryas Hotel boutique cafe-restaurant provides you with this possibility from the earliest hours of the day i.e. seven in the morning until the last moments of the night i.e. twenty three o'clock to enjoy all meals including breakfast, lunch, dinner and all kinds of snacks and even coffee orders make happy moments for yourself and those around you.
Maybe for you in a cafe-restaurant, only food service is important, but for Keryas coffee-restaurant , relaxation and creating an unforgettable memory for you is a priority.
In addition, you can hold and celebrate all your beautiful events, including birthdays and anniversaries, in the outdoor and indoor spaces of Keryas Restaurant-Coffee
Keryas cafe-restaurant, which can be called as the beating heart of the keryas boutique hotel, is located behind the dome of the Naqhsh E Jahan Mosque, with a very beautiful location, from which you can enjoy the unique view of this dome.